Why Choose Sheffield as a Location for Events?
,
Sheffield may not be the number 1 city that springs into mind when you are considering locations for an event, but did you know that one third of this city is actually in the wonderful, scenic Peak District?  Encompassing a remarkable 61% of the city's total area, green spaces are plentiful, rendering Sheffield an ideal destination for venues featuring open-air areas or incorporating outdoor experiences into your event.
Distinguished as Britain's greenest destination, Sheffield places a premium on sustainability, a paramount consideration for events. The city actively contributes to the UK100 Cities initiative, demonstrating a steadfast commitment to climate action. Pledging to plant 100,000 trees between 2020 and 2030, Sheffield endeavors to realize its vision of becoming a zero-carbon city by the year 2030, underscoring a dedication to a greener and more sustainable future.
Sheffield is known for its strong focus on education and innovation. You may like to consider universities, research institutions, or innovation hubs as potential venues. These spaces often offer modern facilities and a dynamic atmosphere.  Here are three Sheffield event venues that you may like to consider:
Hallam Hall at Sheffield Hallam University:
Hallam Hall is a magnificent and versatile venue suitable for conferences, exhibitions, banquets, and private events. Whether used independently or in conjunction with the adjacent Hallam View or Chef Hallam Central for additional catering and breakout space, the venue can adapt to meet your specific requirements.
Hallam Hall showcases a striking design with a suspended black ceiling complemented by a feature suspended white ceiling, incorporating specially designed acoustic panels to manage noise levels effectively during events. The venue's advanced speaker system further enhances its remarkable acoustics.
Adding a touch of natural authenticity to the modern setting, Hallam Hall features a sprung wooden floor and glazed entrance doors.
Capacity:  Theatre style 255, Banquet style 255, Cabaret style 255, Standing reception 255
Octagon Centre at Sheffield University:
Whether planning an awards ceremony, conference, meeting, or performance, the Octagon Centre makes the perfect choice.
Its configurations include 1230 fully seated, a standing capacity of 1800 for live music events, or a clear floor area of 870 sqm, showcasing the Octagon's immense flexibility. The venue can adeptly accommodate a diverse array of events, offering various configuration options to cater to every requirement. From conferences and exhibitions to large-scale live music gigs, sports events, and comedy shows, the Octagon hosts a broad spectrum of productions with seamless adaptability.
Capacity: Theatre style 430 to 1200, Empty Hall 1800, Standing reception 1800
Hope Centre Conferencing: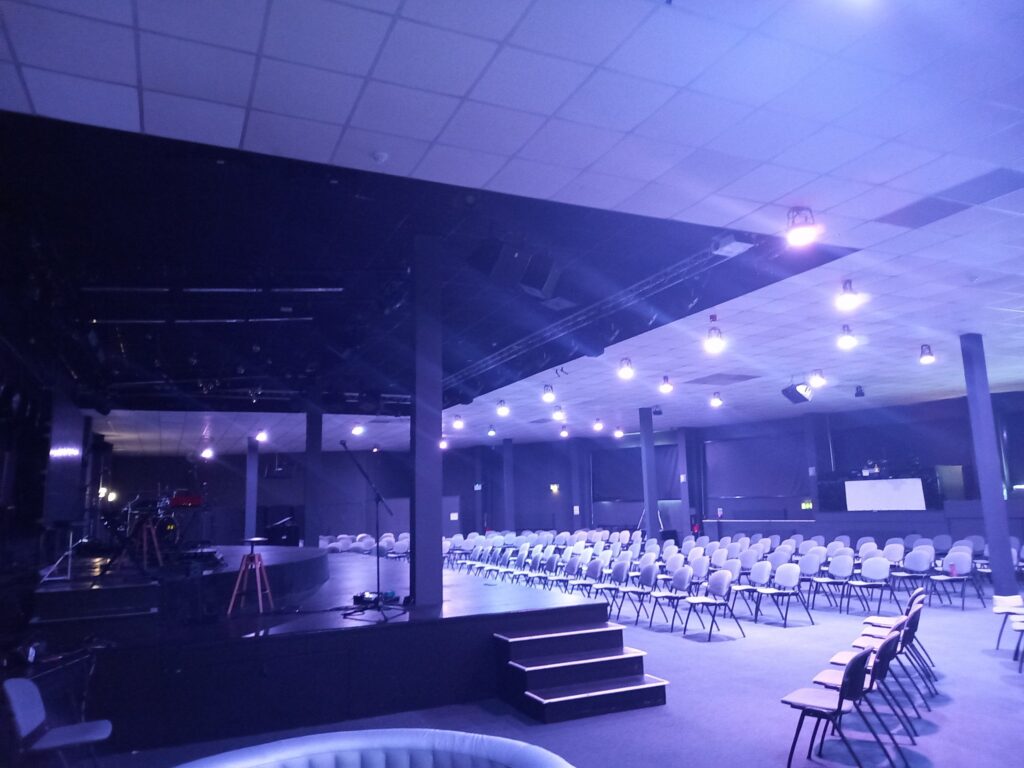 At Hope Centre Conferencing, we offer versatile room rentals suitable for conferences of various sizes. Whether you're hosting a gathering of up to 650 attendees or require smaller spaces tailored to your needs, we have you covered.
Our services extend beyond space; technical support is at your disposal upon request, ensuring a seamless conference experience. Additionally, we provide diverse catering options and other facilities to enhance your event.
Centrally located in Sheffield, our venue is easily accessible by car, offering complimentary parking for your convenience. Nearby public transport options provide added accessibility.
Capacity of Main Room: Theatre style 170-650, Standing reception 650